Learning Enrichment At Fairview
The Fairview Child Center will be offering a Fall school-age remote-learning program called LEAF (Learning Enrichment at Fairview). This is a new program for kids in kindergarten - 5th grade. The primary focus of LEAF is to facilitate remote learning by monitoring students' school video calls and assist with school work/homework. LEAF also has the unique ability to offer enrichment classes through PE, art, Spanish, music, and drama.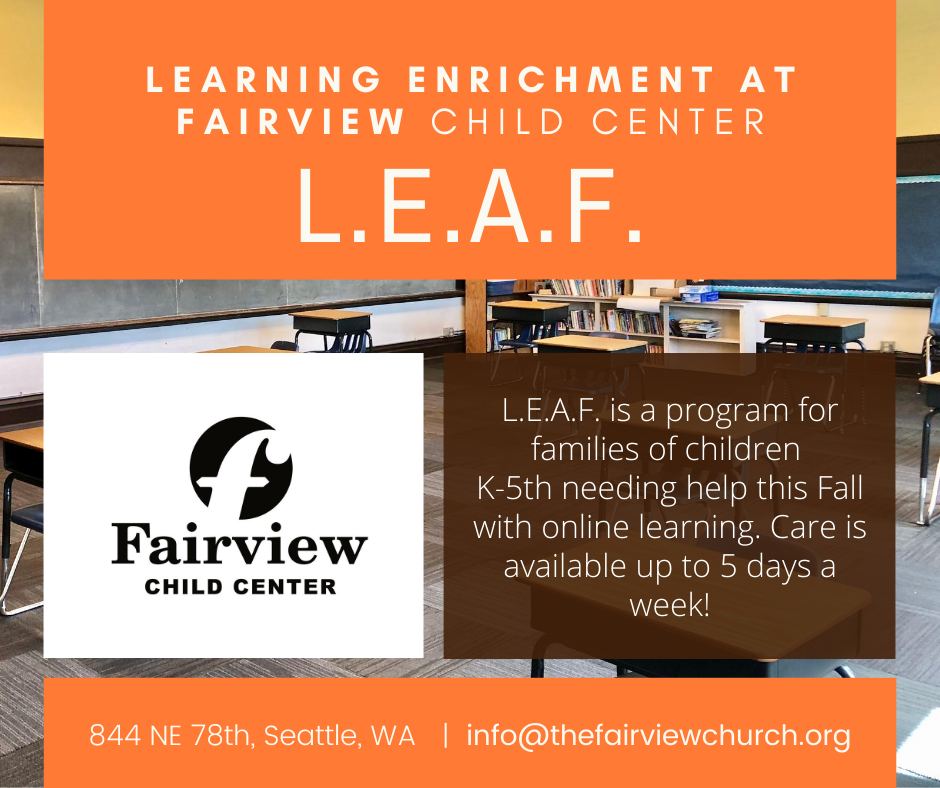 Applications are now available. Space in the LEAF program is limited. Notification of confirmed enrollment will be sent out by August 17th with Registration materials. Priority will be given to current Fairview Child Center families and those looking for 5 Days/Week care. LEAF Registration2020.pdf
Your application covers this period of school closures during the COVID-19 pandemic. While families from all grade schools are invited to apply, LEAF will follow Seattle Public Schools calendar and schedule. In the event that Seattle Public Schools transitions to a hybrid schedule, LEAF will continue to accommodate the new schedule.
LEAF Program begins Tuesday, September 8th, 2020
Monday - Friday
8am - 6pm
Monthly LEAF Tuition Rates
5 Days/Week $1000
4 Days/Week $825
3 Days/Week $650
Download Application Form LEAF Registration2020.pdf. Completed Applications may be turned in to the Fairview Ministries office or emailed to [email protected].